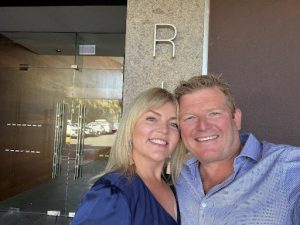 Allow us to introduce ourselves...
We are Kym and Andre – the new owners of Pop Up Homes.
When we set out to buy our business, we were looking for two key points that needed to tick the box. They were a business where our skills and experience would complement the business, and a business where the underlying mission was to provide a benefit to the community.
In Pop Up Homes we were able to satisfy these two points with our background in building, mortgage brokering, customer service, construction and engineering industries a perfect fit to carry on the mission to provide quality affordable housing to everyday Australians.
We have lived on the Sunshine Coast since 2018 and have two children and a blue heeler cattle dog. We have been lucky so far to be able to buy and sell a number of houses in our time however struggle to see how the next generation, our children, will ever be able to afford their own home, especially with the enormous growth over the last year alone. We also have our Mum's, Dad's, Auntie's, Uncle's and the generation before us who were not as fortunate to have started superannuation early on in their working lives and can only rely on their home as their retirement savings.
There is a major problem with housing affordability and the offering that Pop Up Homes provides is a key reason why we decided be part of this business so we can influence people's lives. We will do this by achieving:
Our Mission to:
"Aspire to be a business that provides affordable housing, exceptional and informative customer services, and leading building services to our customers with a specific focus on the highest quality workmanship and craftsmanship within a fast timeframe.
We are passionate about providing all Australians with an affordable home, and exceeding customer needs through our innovative small home solutions.
With the ability to think outside the box – we are the future of the industry and will lead the way with our innovative, client-driven turnkey small home solutions." and
Our vision to:
"Present innovations that will shape the future of generations to come. We aspire to become a 'household name', with a reputation that evolves organically throughout the country.
We will achieve this by creating a customer experience where passion, purpose and meaning come together for the greater good."
Join the affordable homes revolution and enjoy the property dream many others have so far with Pop Up Homes. We look forward to helping you and many more people realise their property dream in the years to come.
Kindest Regards
Kym & Andre