A Pop Up Home can be an affordable instant source of extra income, a clever downsizing option, comfortable accommodation for adult children or elderly parents or a convenient home office, while increasing the total value of your property.
1 Bedroom
37 Square Metres
This cute 37 sqm tiny home/Granny flat consists of 1 large 5.2 meter bedroom. The open plan living makes the home feel very spacious. The price of this home includes, 1 bedroom, a bathroom with a shower, toilet, vanity, shaving cabinet and handrails. The kitchen consists of a 3.8M gloss kitchen with soft closing doors and draws a hand made stone bench top with quality fixing and fixtures. All our homes have quality vinyl flooring , double glazed windows and insulated roof and wall panels keeping the home cool in summer and warm in winter. Your home arrives with all Australian standard electrical wiring and fittings and the plumbing on your home is fitted off in site.
$41,990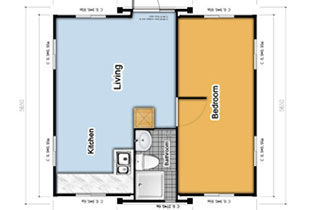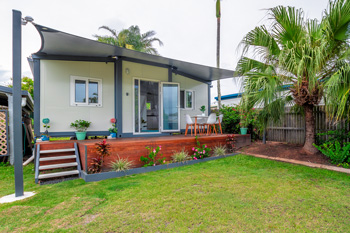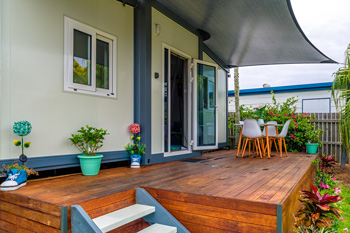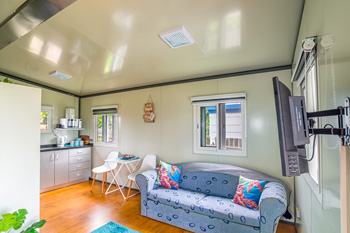 Once delivered your Pop Up Home is opened up in 2 hours and ready for you to move in in just 5 days.
Utilize your exisiting land to duplicate income, Our Pop Up Homes specialists will show you how.
Work with us to select the home design that works for you.
From initial enquiry to handover, we are with you all the way to make it a simple and easy process.
The beauty of a Pop Up Home is that it is fully transportable should you decide to relocate in the future.
I've been fascinated by tiny homes for years - this is much more spacious than a tiny home and definitely more affordable than the ones I've seen online.











—

Betsy Clark

( Betsy Clark )
I thought outside of the Pop Up looked great, especially with the patio. It was able to built in a confined area but still looked fantastic.











—

Robin Skerra

( Robin Skerra )
The Pop Up Homes team are incredible. From the first time I spoke to Shan, I knew it was the best choice for us. She made it so simple and was helpful every step of the way. We love this new home for my mum and are very excited for this next adventure in life. Thanks Shan & Wayne











—

Tammy Donovan

( Emu Park )
We had a pop up home installed in our yard, which is for my father. The fit out looks fabulous and spacious.











—

Joanne Day

( McKay, QLD )
Definitely want one. I would probably buy the 58sq deluxe 2 bedroom. Need to get transport and final quote for home to see if it fits into our tight budget. They are attractive and really an excellent housing solution for those that don't have top $.











—

Jenny Frankel McCarthy

( Jenny Frankel McCarthy )
Great concept, excellent service, top quality standard and most of all they where a great team to work with��











—

Sunnydene Nursery

( Sunnydene Nursery )
The product is incredible and the customer service is beyond any expectation.











—

Jane Erik Eriksson

( Jane Erik Eriksson )
Shanyn and Wayne produced a product that amazed onlookers, and this happy owner is absolutely chuffed with! I cannot thank these two enough for their enthusiasm to make this project happen like Clockwork











—

Jody Moses

( Russell Island )