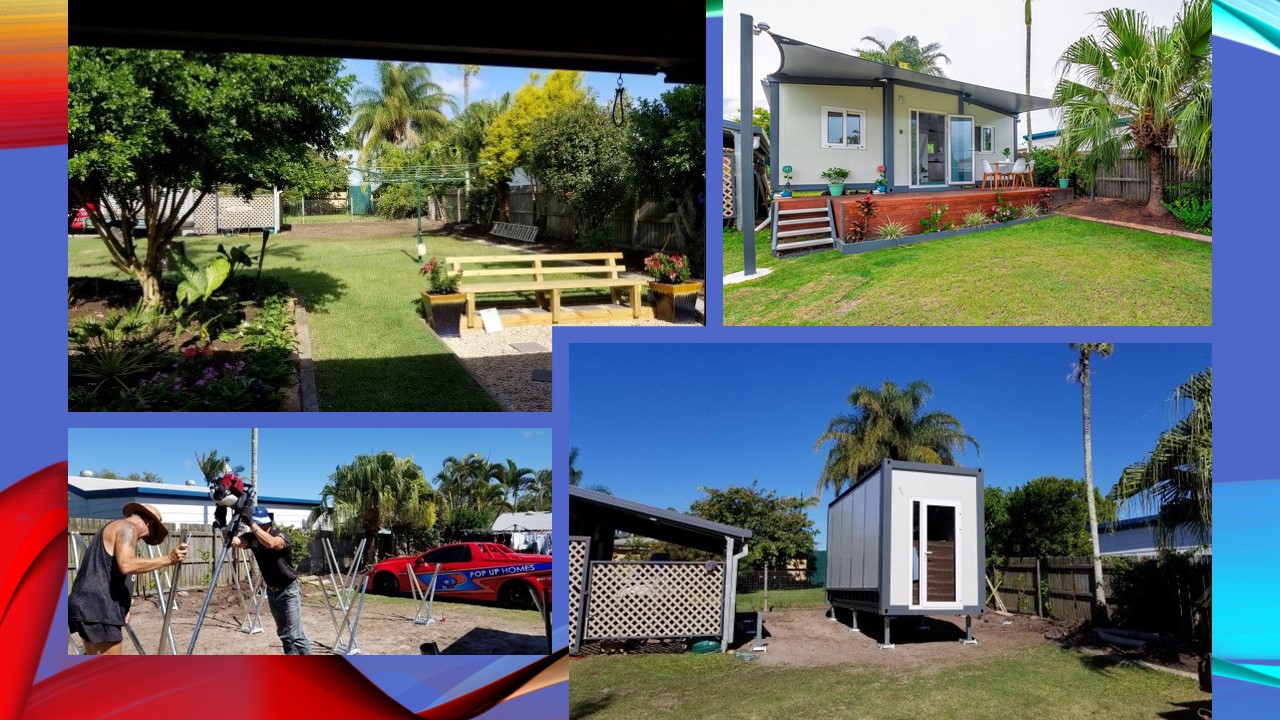 Adding value to your property can be as easy as putting a granny flat in your back yard. In our largest capitals around Australia, they have the potential for over 500,000 properties to have granny flats built in their yard.
Source: Core Logic
What is a granny flat?
A granny flat is a small self-contained living area built on the grounds of an existing family home. They are also known as a secondary dwellings and accessory dwelling units. They were named from the original purpose they initially served. Traditionally families would use these dwellings to accommodate their aging parents or grandparents. By adding a granny flat, helped keep the family together while giving everyone much-needed privacy. By adding a granny flat was a much more affordable alternative to aged care homes and facilities.
Granny flat costs? 
There are two ways to build a granny flat. One is buying a kit home; kit homes generally offer two bedrooms, a kitchen and toilet area and can roughly cost around $50,000. Keep in mind that a kit home may have other costs involved, for example, the cost of labour to build your kit home and the services of a plumber and electrician to get your kit home connected to existing power, water and waste as well as the cost of getting your kit home certified through council.
A conventional built granny flat
Can cost around $120,000 – $200,000 which typically includes the electrician, plumber and other services required to build a granny flat. It's a smaller expense compared to building a conventional home, but according to CoreLogic/Archistar modelling, it has the potential to boost the value of your existing dwelling by 30%. For example, adding a granny flat to a $500,000 property could see it's market value rise to $650,000 it is a significant return on investment.
Source: Core Logic
How can I finance my granny flat?
There are 2 common ways to finance your granny flat. As Alex Ritchie has said in her report.
1. Redraw on your mortgage:
If you have made extra payments on your mortgage and have a redraw facility, you can access the extra money you have paid and use it to finance your renovations. This can be a competitive option if you want to avoid the hassle of additional debt, such as putting your renovation on a credit card or taking out a personal loan. However, keep in mind that you will lose the benefit of reduced interest charges on your mortgage because your loan balance will go up. Some lenders will limit the amount and frequency of redraws, as well as charge fees to deposit and withdraw.
If you want to take the redraw route, but your home loan does not offer this feature, you may want to consider refinancing to a home loan that allows this. The issue would then be waiting a few more years to build your granny flat after you've made enough additional payments to fund this project.
Pros
· Access cash without taking on new debt
· Easier and faster than applying for a new loan
Cons
· No longer reducing your mortgage interest
· Can be fees or limitations associated
2.Personal loan for renovation:
If you don't have the funds upfront, you may consider taking out a personal loan for renovation.
A personal loan may allow you to take advantage of flexible features – such as the ability to make extra repayments, choose between a fixed or variable rate and choose between a secured or unsecured the loan. Personal loan terms are also much shorter than that of home loans, although interest rates may be much higher.
If you were thinking of putting your granny flat costs on plastic, keep in mind that personal loans carry lower interest rates than credit cards. The average personal loan rate on RateCity's database sits at just over 12.14 per cent, while the average credit card rate is 16.82 per cent.
There can be a range of ongoing fees associated with a personal loan, such as annual fees. Consider researching different types of loans and compare some that you think maybe the best fit for your financial needs and budget before making a final choice.
Pros
· Flexible features
· Fixed term to pay off loan
· Lower interest rate than credit cards
Cons
· Potential fees
· Higher interest rate than home loans on average
· Can add to existing debt
Source: – Alex Ritchie – Rate City 
Around Australia a revolution is taking place
The humble granny flat is becoming more and more of a trend, why you might ask?
It has the potential to not only increase your property value but also has the potential for excellent source of steady income either by long term renting, Airbnb, storage areas, a backyard gym or home office and many other investment ideas. The family benefits of a granny flat can't be overlooked either, whether that's giving your adult children more privacy while they are saving for a mortgage to move into their own home, keeping loved ones close as they become more reliant on care or if you have family visiting from overseas it's a great way to give them the space and privacy they need.
Building Granny flats
Not only helps with your investment but helps with the ever-increasing Problem of ''affordable housing'' for those that cannot afford to get into the housing market or rent due to increasing cost of renting a dwelling, they finally have the opportunity to rent their own home in an area that they so choose, that's otherwise too expensive to buy land and build a house
There are also greater potential benefits that building a granny flat could bring to the Australian economy. If every one of the eligible 500,000 plus residence of Australia decided to put granny flats in their backyard, the construction industry in Australian could see more than $6 billion invested back into the industry and country, that's a huge cash injection. Not only can it be beneficial to builders, but it creates jobs for electricians' plumbers and other professionals in the building industry.
 Source: Core Logic
What are the limits to building a granny flat
When it comes to adding a granny flat to your backyard, there can be some limitations, The rules about whether you can build a granny flat may vary from state to state and even between councils. The major key factor in whether you can build a granny flat on your property is the size of your block, in Queensland, for instance, you will need a minimum of 450 square metres for a small lot, or rear lot less than 600 square metres, excluding the access way. If you would like to know more about your council rules and regulations on granny flats, click this link from Pop Up Homes to find out more.
Pop Up Homes is your solution
For an affordable granny flat, not only for investment purposes to increase the value of your property but for your parents, grandparent and adult children that are wanting to live closer to their family or saving for their first home, while providing that privacy that we all need. We offer 2 sizes;- 37 square metre and a 58 square metre with 4 different styles.
The Keppel is a 37 square metre 1-bedroom Pop Up Home.
The Fraser is a 58 square metre 2-bedroom Pop Up Home.
The Fraser 58 square metre 2-bedroom Pop Up Home with a study Pop Up home. 
The Moreton is a 58 square metre 3-bedroom Pop Up Home.
Not only are Pop Up Homes affordable but we offer stress-free packages that includes;
Planning at a low cost.
QBCC home warranty insurance.
Engineering form 15.
Installation of your Pop Up Home.
Supply and install footings.
Our Pop Up Home specialists deal with the certification process for you and deal with the council, so you don't have too!
All our Pop Up Homes are thoughtfully designed and engineered in Australia while maintaining the affordability that most other granny flat builders can't provide.
Why choose a Pop Up Home as an investment for your property?
A Pop Up Homes "Granny Flat", is a great investment and is worth considering due to the reasonably low costs and relatively high yields/returns, especially when compared to traditional investment properties. With 4 styles of granny flats on offer, there is an option for a wide range of investors and owner-occupiers. Summarised below are the potential returns and costs.
*Please note that these costs are approximate and assume that the "Granny Flat" is put on land that you as the investor currently own, hence the costs exclude the cost of land.
 The Fraser – 2 bedroom Total Cost $ 72,560
Permanent Rental in Brisbane / Gold Coast $ 380.00 per week for say 50 weeks = $19,000 (Gross Yield 26%)
AIR BNB Rental in Brisbane / Gold Coast $ 150 per night for say 300 nights p.a. = $45,000 (Gross Yield 62%) 
 The Fraser- 2 bedroom with study Total Cost $ 73,560
Permanent Rental in Brisbane / Gold Coast $ 390.00 per week for say 50 weeks = $19,500 (Gross Yield 26.50%)
AIR BNB Rental in Brisbane / Gold Coast $ 150 per night for say 300 nights p.a. = $45,000 (Gross Yield 61%)
 The Moreton 3 bedroom Total Cost $74,560
Permanent Rental in Brisbane / Gold Coast $ 390.00 per week for say 50 weeks = $19,500 (Gross Yield 26%)
AIR BNB Rental in Brisbane / Gold Coast $ 160 per night for say 300 nights p.a. = $48,000 (Gross Yield 64.3%)
Source: Superior Accounting Group 
Advice is general in nature, please consult your accountant and lawyer to see if it suits your own personal situation before proceeding.
Related Reading: Granny Flats Make For A Great Versatile Investment Opportunity
At Pop Up Homes, we love what we do, and we love our customers even more. Have a read of customers reviews here and give us a call to answer any questions about a Pop Up Home granny flat.
Sources: Core Logic  /  Rate City