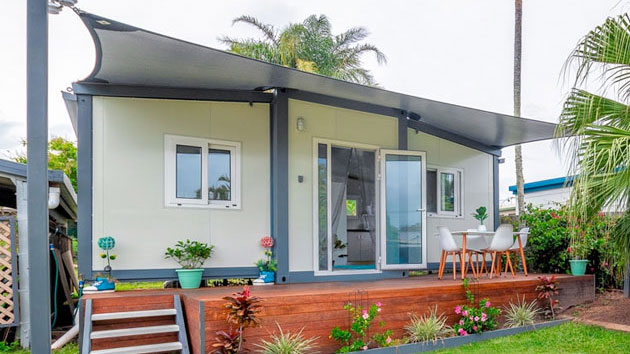 At Pop Up Homes we know you have enough to do in your busy life.
We also understand the last thing you want to do is spend your time, energy and money driving around in the car looking at displays, or surfing thousands of pop up homes websites and ending up more confused than ever.
That's why enquiring or ordering your Pop Up home is easy and stress-free and why we have a complimentary price guide.
Our focus is to keep you in the loop at all times with your order, so you do not have to worry about anything.
Simply put, Pop Up Homes are a proven leader in supplying affordable Pop Up Homes to people, businesses and other operations of all over Australia.
Our permanent Pop Up Homes are perfect for use as granny flats, spare rooms, an investment, renovating, first home, downsizing, deluxe camp accommodation and much more.
Put one on a block you can't build on or live in it while building your dream home.
They're a great space for the adult children while they leave or save for a home of their own. They also make ideal University accommodation and are perfect for caravan parks or your own bed and breakfast, so find out more today with our complimentary price guide.
To find out more or order your Pop Up Home…
Phone us 1300 121 556 and speak to one of our home specialist.
Email us at office@popuphomes.com.au
Or you can register for our complimentary price guide and have it mailed to you. It contains additional information about our pop up homes, which many people and businesses find extremely useful, so why not orders yours today?